Danijela M. – Office Administrator
Danijela earned a business degree in economics from the University of Novi Sad in Serbia. She's no stranger to dentistry having worked in the field since 2005. She's been a part of our dental family since 2015. While overseeing all of the various aspects of running a successful dental office, Danijela also works hard ensuring everyone from our team to our patients is happy when they're in the office. She says she chose a career in dentistry because it allows her to help and work closely with people, two things she enjoys very much. Danijela has a love of numbers and analyzing reports, so being an office manager is the perfect fit for her as a career. If she wasn't working with us, Danijela says she'd probably travel the world as a photographer. Our team members and patients alike love Danijela because she's friendly, reliable, trustworthy, ambitious, and compassionate. Outside of the office, Danijela enjoys spending time with her husband and baby boy. She also enjoys exploring new countries and cultures and says that reading books is the best way to relax.
Lorraine C. – Front Desk Coordinator
Lorraine is a graduate of Salem State University with a degree in communications and a minor in biology. She's currently enrolled at Middlesex Community College, where she's studying dental hygiene. If you have questions for us or need assistance scheduling your appointment, Lorriane can help! She loves connecting with patients and also seeing how happy they are when they finally complete orthodontic treatment, revealing a gorgeous smile. Lorraine says she was drawn to dentistry because she knows that the power of a healthy, beautiful smile can dramatically boost anyone's confidence. When you meet Lorraine, you'll see that she's friendly, personable, cheerful, laid back, and always reliable. She loves how every single one of our patients seems like close friends or even family with both Dr. Gheewalla and Danijela when they come to the office. When she's not busy helping patients at the office, you'll probably find Lorraine enjoying the outdoors. She enjoys hiking in New Hampshire, biking, traveling to Europe, going for walks, watching documentaries on Netflix, and eating at local restaurants.
Julian S. – Dental Assistant
Julian has been working in dentistry since 2012 and has been a valued part of our dental family since 2018. As a dental assistant, he's busy at the office preparing patients for dental work, helping with infection control by sterilizing and disinfecting instruments, setting up instrument trays, preparing materials, and assisting with dental procedures. You might also find Julian assisting the dentists in managing medical and dental emergencies when necessary. When asked why he wanted to work in this field, Julian says it's because he loves all things dentistry. If he wasn't helping patients in the dental field, Julian says he'd probably be working in IT. You'll find that Julian is friendly, loyal, social, ambitious, and determined. When he's not busy at work, Julian likes going to the beach, spending time with family, swimming, and cycling.
Krysta B. – Dental Hygienist
Krysta is a graduate of Middlesex Community College and has been working in dentistry since 2012. She's been a part of our team since 2015. As one of our talented dental hygienists, Krysta is responsible for all things oral hygiene including education, cleanings, and providing patients with optimal care. One of the things Krysta loves best about her job is working with children. She says dentistry was interesting as a career choice because it gives you the power to be a health care provider and help people stay healthy. As soon as you meet Krysta, you'll find that she's hardworking, motivated, active, outgoing, and reliable. This mom enjoys working out, teaching spin classes, and hanging out with friends and family when she's not in the office.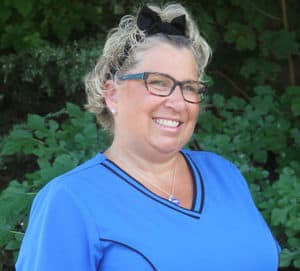 Laurie W. – Certified Dental Assistant/Treatment Coordinator
Laurie is a graduate of Boston University with postgraduate training from Kaplan University. She knows a thing or two about the dental field having worked as part of it for over 20 years. Laurie has been with our office since 2013. As a treatment coordinator, some of Laurie's duties include overseeing and helping out with the daily flow of the dental assistant and dental hygiene needs. She also provides valuable training. She decided on pursuing a job in dentistry when she was attending Northeast Regional Vocational and enjoyed working in the dental lab. However, Laurie says if she wasn't working in the office she'd probably be a real estate agent or a life coach. Besides being a treatment coordinator, Laurie is also a certified dental assistant and certified in safe CPR administration. Laurie is always reliable, loyal, friendly, social, and persistent. When she's not helping out at the office, Laurie enjoys spending time with her family and two dogs. She also loves traveling, shopping, and checking off boxes on her bucket list.
Katherine P. – Dental Assistant
Katherine is a graduate of Lincoln Technical Institute with post-graduate training from Quality Dental in Charlestown and Joseph J. Milavec, D.M.D., M.P.H. She's been working in dentistry since 2016. As one of our talented dental assistants, you'll find Katherine stocking and sterilizing treatment rooms, sterilizing instruments and tools, assisting during procedures, weekly maintenance, setting up trays for treatments, and typing up patient records. When asked what she loves most about being a dental assistant, Katherin says everything! She knew she wanted to pursue a career in dentistry after helping her mother on the weekends when she worked in a dental office. When you meet Katherine, you'll find she's kind, caring, organized, responsible, and motivated. Outside of the office, she enjoys relaxing and cooking.